Orson Bean here, is precisely what the doctor ordered, and he plays his goofy,simple man part well.
But the problem is, there isn't much of a story.
Just some goofball who can't hold a job, collects all things
odd
, drives an ancient car, and for some reason he gets a "guardian angel" out of nowhere.
BUT- he seemingly is in need of a "break", and the simple man gets one.
There were a few entertaining spots, and seeing cool old Charles Lane was good.
I suppose that good things happen to the meek after all. Is that the moral of this episode?????
But thats not enough to save this one.
Not the best of stories, but certainly not the worst Serling and crew had to offer.
Here is a shot I had him sign, and I am sure he chuckled when he saw it.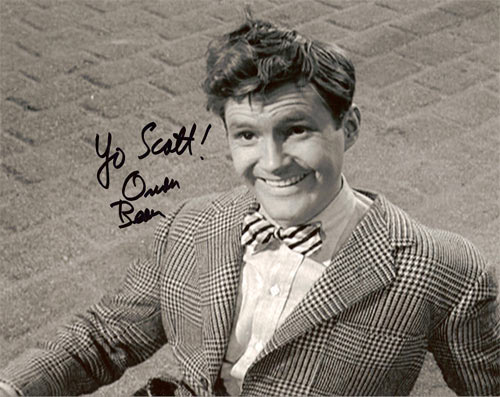 "4" from me.
Well I wonder who voted "-3", maybe he is creeping around here somewhere.
TZ DZ Fan