Anyone here seen
It!
? This is it... (condensed - don't watch if you want to avoid spoilers):
No, it's not the It of Stephen King fame; it's a goofy monster picture from the sixties. It was released on DVD not too long ago as part of a double feature, paired with
The Shuttered Room
(1967).
It!
stars Roddy McDowall and is another version of the famous Golem legend; one of the alternate titles is
Curse of the Golem
. The story shows what a crazed fool can do when he has an all-powerful creature-tool at his disposal.
Though this features the invulnerable Golem creature, most of the story revolves around McDowall's character, Pimm, who seems patterned on Norman Bates of
Psycho
(1960). Pimm must have snapped a few years before the point that the film begins; he's assistant curator at a museum and presents himself as polite and slightly quirky, but in truth he is total bonkers. Then he proceeds to snap a couple of more times during the course of the picture -- in the hands of actor McDowall, such a character arc has to be seen to be believed...
It!
also stars Jill Haworth, who appears in a very (for the time) provocative dream scene at one point...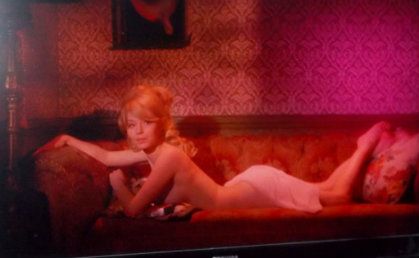 ABOVE
:
Pimm (Roddy McDowall) contemplates the Golem's arms... and Jill Haworth offers some alternate points of interest
I think that some elements in this film were meant to be absurd, in the vein of a dark comedy, but I can't be sure. Just when it looks like things can't get any more whacky in this film, the final act veers to an entirely different plot and locale: it becomes a madman and his Golem vs. the world, and the military quickly decides that nothing short of nuclear weapons will win the day (as I said, has to be seen to be believed). But, can even atomics stop a being which cannot be destroyed..? You'll have to see for yourself...
It! Factoids
: Roddy McDowall's name is misspelled in the credits as "MacDowall" and no one seems to notice, starting the whacky stuff even before the film proper; maybe it's an alternate spelling..?
(2) This film was meant to copy the Hammer Films style of film-making of the sixties - it does seem like a loopy version of a Hammer film to me...
(3) Pimm states at one point that the Golem statue weighs in at over 3,000 lbs. - that's heavy even for an 8-foot tall stone statue; perhaps it's mystical stone - which is why it can't be damaged, see?