whitsbrain wrote:
Holy crap DrM...I was at B&N tonight and I had a Lovecraft book in my hands but I put it back on the shelf, because I remembered ONE story posted here. Now I see there are FIVE.
I am familiar with "Cool Air" and "Pickman's Model" from Serling's Night Gallery, but I am otherwise a Lovecraft noob. The little I do know about his writings make me want to explore the dark, alien, ancient universe he explored. Why this kind of thing appeals to me, I have no idea. I do believe in a Creator, a God that caused everything. I'm generally quite an optimist. This seems to fly in the face of the stories that Lovecraft wrote. The biographical accounts I've read about him seem to indicate a cynical person who considers mankind insignificant and ignorant. I probably want to read some of these stories because it appears that they have really mean monsters!
Anyway...got off track quite a bit there. I'm going to read a couple of his stories here and see if his they end up being attractive to me at all.
I'm curious which book you're referring to, whit. Only because B&N have been printing these leatherbound classics, the newest of which is H.P. Lovecraft.
I've purchased (or received as gifts) several of these leatherbound books. It's just a nice-looking collection. I've only recently begun to read through these books (I started The Assassination of Abraham Lincoln last month - a collection of all letters of condolences written by people across the globe). I put the Lincoln book on hold for now; I just started 'The Complete Sherlock Holmes'. I also own 'The Complete Tales and Poems of Poe', The Iliad & The Odyssey, The Divine Comedy, 5 novels by Dickens, 7 novels by HG Wells, The Vampire Chronicles by Anne Rice. I was looking at getting the Lovecraft book (HP Lovecraft The Complete Fiction - photo below).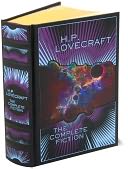 It seems a small Bradbury collection (3 novels) is coming next month: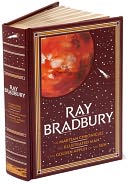 _________________

Courtesy of Dr. Moreau & PJW