I met Jack Katz back in '77 - OK, that's not really accurate. What really happened was that I was this punk kid seated in one of the presentation rooms during a comics convention in San Francisco in 1977 and Jack Katz was the presenter. What was he presenting? The First Kingdom, natch. To be even more honest, I would not even remember the exact year this happened - just that it was sometime in the late seventies - if not for the fact that I still have my copy of the BayCon 3 Program Book; Katz is featured in this in a short article by Mark Evanier -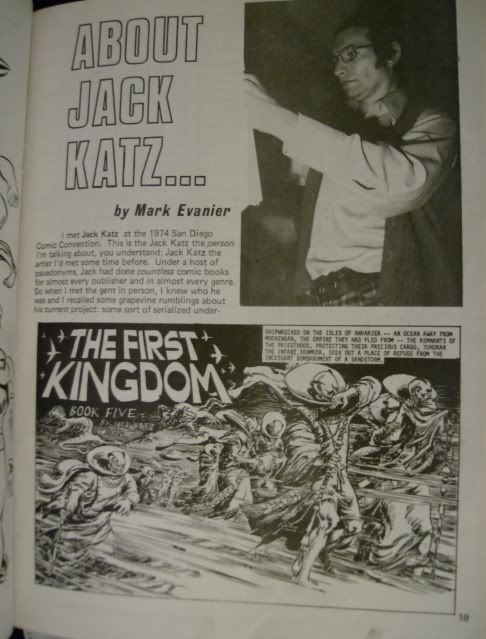 (that cover is not my copy, just one that happens to be on sale on eBay right now; the interior pg.19 shot is mine, though).
What's really odd is that the moments which have become ingrained on my mind from back then in '77 were Jack's first few words, part of his introduction. He abruptly referred to one of the other presentation rooms nearby which was showing videos or 16mm film of something, likely on a TV (or maybe on a small screen, maybe footage from Star Wars or some TV show - I can't recall) and Jack was clearly derogatory about it, something along the lines of 'that mess over there' or 'that crap over there' in explaining to us how we shouldn't waste our time 'over there.' I had to suppress a chuckle - Mr. Katz was clearly one of those
'let me tell you how I really feel'
guys. He also came off as a curmudgeon, kind of angry for no reason, but this also indicated a fierce passion about his work and life in general.
The shame of it is, is that i didn't obtain any of The First Kingdom books back then. I was in my mid-teens and really into super-heroes, mostly Marvel (Katz worked for Marvel very briefly in the late sixties; his meticulous detailed work caused him to move on, I think, because it took him too long to complete, as happened when he worked at other companies, as well). Someone like Katz piqued my interest, enough that I was one of the few who picked his presentation to attend, but not enough to expand my buying interests, even if he was this unusual maverick. As I got older and my interests expanded, I would return to thoughts of The First Kingdom, like every few years. Something always seemed to get in the way and I would place aside my plans to get the first few books. Maybe now is the time - these are not very expensive to obtain even now. It is, after all, a combo of my two main interests - comics and science fiction.