A shifting of reality takes place here, again challenging our notions on what reality
really is
. Is it - reality - really solid, unwavering, or is it subject to changes without a moment's notice? Maybe we don't even know it when it shifts; if we did, we'd be in the same boat as the perplexed main character here, played by Robert Klein.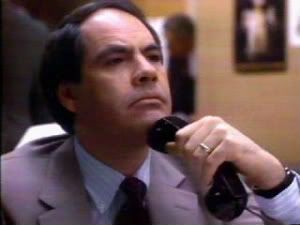 The shift in reality for Bill Lowery (Klein) begins subtly, almost imperceptibly. One morning, his wife mentions the name of their new doctor, "
Bumper
," which sounds a bit odd, but Bill doesn't give it another thought. Later, his neighbor refers to his dog like an "
encyclopedia
." This sounds more odd to Bill, but he needs to focus on his job. However, these odd moments start to pile up, as in when a work associate says "
dinosaur
" instead of the word "lunch."
Dinosaur
?
Dinosaur
? !
This episode is very effective due to, in no small way, Klein's excellent performance; known mostly for his comedic roles, Klein nails every scene here, projecting the confusion and then despair that informs his scenes. And, the steady erosion of Bill's world is done with panache, in a very well-executed fashion - this is almost perfectly paced. This rearranging of reality is what
the Twilight Zone
is best known for, as in such episodes as
Person or Persons Unknown
and
A World of a Difference
on the old show. I give this one... a 9!