This begins a bit confusingly, utilizing real footage from NASA of space, astronauts and the doomed Challenger ship, but soon emerges as an interesting, tantalizing tale of alien visitation. The alien is able to totally absorb another living object which touches it

.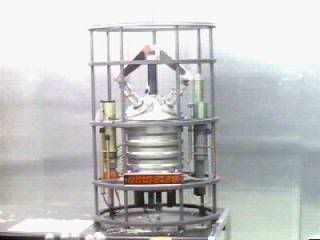 The story reminds me of innumerable sci-fi films, everything from
The Quatermass Xperiment
(1955) to
The Thing
(82) to
Starman
(1984). However, the twist here is that the alien may not be hostile, despite what it puts several Earthlings through during the course of the episode. The episode is filled with tense and surprising moments, such as when the alien seems to transform itself into a working nuclear bomb, with a countdown of just over 2 minutes!
In some ways, this alien invader/visitor tale is superior to many of the films with a similar storyline because it tackles a more intriguing aspect of such an encounter. It's not simply about an invasion or a simplistic visit, even if the alien itself makes it sound simple by way of its response when asked as to why it came to Earth. The ending is more poignant than what I was used to. And... Terry O'Quinn! I just obtained the new DVD Edition of
The Stepfather
(1987), which I first watched way back in the eighties. It's weird to see O'Quinn here in a totally different role. I give it an 8.