It slides out from underneath a bed, a thing of darkness. What is he? What is it? It speaks with a raspy voice - "I AM the Shadow Man. And I will never harm the one under whose bed I live." Then it creeps out into the night and begins hurting kids. Aagh! This episode is aimed, it seems, at those in the 8-year to 14-year-old age bracket - designed to give the kids some shudders. This preys on the common fears of youngsters - what's underneath the bed? What is in the closet? What's in that dark corner over there?
I still admire the solid execution and style here, even though I'm well past those years.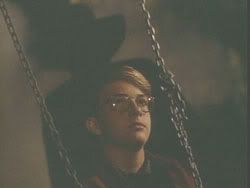 The tale is a parable and a morality tale, again focusing on a character with weak character traits. The story tells us that, with such traits, it's inevitable that what comes around goes around - the poetic justice climax. This episode throws in that wicked twist ending (I admit it, I really like those twist endings in TV series such as these). The twist is presented very effectively and manages to be creepy, especially if you're alone at night while watching this.
I give it an
8
, 9, rather.