Since this story, adapted by Alan Brennert, is based on a short story by Arthur C Clarke, you have to expect that it's at least pretty good. It's also one of the shorter segments, at about 11 minutes. The sci-fi tale takes place in the far future, when mankind is advanced enough to explore other solar systems - or the remnants of such. In this case, an Earth survey ship, The Magellan, has arrived at a system where the sun went super-nova
.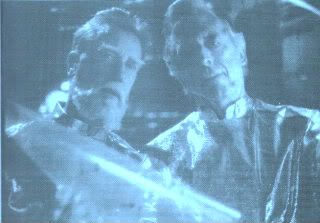 As pointed out above, DrMoreau summed it up just right: the two main characters - a priest (Fritz Weaver) and an astrophysicist (Donald Moffat) - and their philosophies seem completely at odds in the first few minutes. It's a friendly debate they have but it seems irreconcilable; however, it all converges at the end. I found it interesting that the priest was also a trained scientist. This offers the alternative to the thought that religion will basically be phased out over the next couple of centuries.

I really liked the entire ambiance of this segment; the filmmakers were able to convey, with their limited means, that this really was a space expedition in mankind's future. It even reminded me, a bit, of Forbidden Planet (56), especially that long shot of the pylon on the alien planet (seen above in the first post). The actors, being long-time veterans, were also well-employed here.
I give it an 8.