I guess the inclusion here of an almost prototypical O. Henry ending, the twist, one of poetic justice, is what makes this one of my favorite episodes. But, as with a few other episodes, there is also the style of the presentation - it's offbeat. The wife (Mare Winningham) has a nasty disposition; she's always in a bad mood and griping. The husband (Brad Davis) seems to appreciate what little they have. They both have slightly quirky personalities and are kind of overplayed, exaggerated. I realized, as the episode progressed, there was a madness to this method. The tale is basically a dark farce. It ends up making some fun of such human beings; they live their lives desperately in a way and, soon, someone or something will take full advantage of their weak character traits
.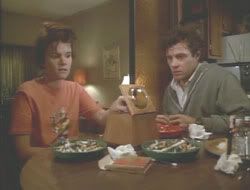 Winningham - I found I couldn't take my eyes off her; she's a bundle of exaggerated gestures and weird twitches, over-wrought inflections and stressed out attitudes. She understands that she's in a dark comedy, which this is, of course - wickedly dark, with a wicked twist. But, the one who takes the acting honors is Basil Hoffman as Steward, the tall dark man. With a voice that is at once soothing and sinister, Hoffman glides in and out of the story like an urbane Satan. At the very end, he pauses in the doorway of the couple's apartment as he leaves, his tall figure almost silhouetted against the opening. It's an image I've never forgotten, even 20 years later. Also, the camera zooms in on the wife's eye as she makes the bloodcurdling realization of what's in store for her. As I said, the style sometimes makes a story - based on Richard Matheson's original; the film version
,
The Box
,
is finally coming out in a week or so
. As mentioned above, the trailer is not a good sign; this story is probably better suited to 15 or 20 minutes.
I give the episode a 9.