This is my favorite episode of the
new Twilight Zone
.
For me, it touches upon the ultimate mystery and the ultimate question of our existence. What is the meaning of it all? Why are we here? What is the purpose of existence? This is really the toughest and most intriguing question(s) to tackle on a TV show and this episode managed to strike the right tone in suggesting that the answer is too profound, too unsettling, too surprising, too disturbing, just too plain scary and, in the end, too simple. That's the mind-blowing paradox: as depicted here, the answer is very simple - yet, so simple that it causes madness in most minds, as if we are prepared ONLY for something very complex.
Our brains are wired a certain way, maybe.
Besides Petersen and McDormand, especially effective is Robin Gammell as the main loony, Potts; from the second that Petersen's investigator meets him, we get this feeling that something is terribly wrong and something very bad will probably happen, even though Potts seems harmless during that first minute. And yes, that last shot of Petersen is pretty chilling. It really threw me off-guard the first time I watched this episode. (a sidenote: I recently watched a segment from an old comedy show; I'm pretty sure it was an old Monty Python episode; in that bit, there was a mysterious one-liner joke that caused people to laugh uncontrollably - to the point of death; it shows that this concept can be applied to various genres).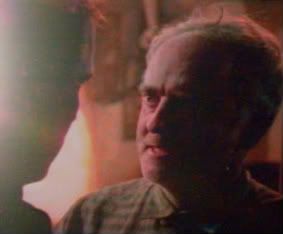 After each time I watch this episode, I start to think about this terrible, unknown sentence-as-an-idea, this small collection of words which overwhelm people entirely, driving them mad. I begin to wonder - how would I approach such an idea; how would I react? Would I still want to hear this answer, knowing that it would drive me mad? Would the quest for answers - for knowing the answer to the ultimate question - supersede my desire to avoid madness? Would I believe that, perhaps, I was someone - one of those rare few - who could handle such ultimate knowledge? Would I Need To Know, despite the destruction of my mind? So many questions... so few answers
.
I give this one a full 10.