I'll admit to a certain personal preference for an episode such as this because I'm very fond of the era it quite slavishly attempts to emulate: the golden age of science fiction in the fifties. This segment is an all-out homage to those sci-fi films of the fifties decade - blatant, unsubtle and rather wonderful. All those goofy plots involving alien invaders - many of which took place in the desert regions - are reconstructed in about 15 minutes of retro cinema.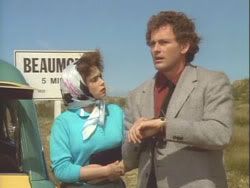 Now, this is a Zone episode, so there is a final twist in the end. The episode was written by David Gerrold, who also wrote
The Trouble With Tribbles
on
TOS
,
so there is an amusing tone throughout. There are numerous in-jokes, beginning with the title itself (Charles Beaumont, famed writer of several old TZ episodes). The cast includes a few iconic faces from the fifties: Ken Tobey, John Agar, Jeff Morrow and Warren Stevens
(this last from
Forbidden Planet
and the
TOS
episode
By Any Other Name
).
A couple of these actors also appeared in episodes of the old TZ show, written by... Charles Beaumont
.
There was a recent full-length film which also tried to recapture that fifties sci-fi feeling in a similar way
-
Alien Trespass
.
It, like the episode, is kind of silly and trivial, I suppose, but the episode is better
.
I give the episode an 8, just for being what it is.