From time to time I find myself in a state of Deja Vu. I go to places I've been to before even though this is my first time physically at the location. Most recently, I had this feeling on the streets of Downtown L. A. Being a native here, I see tons of stuff being filmed all around me - CSI:NY, Hancock, Watchmen, etc. However, on my way home the 110N was packed bumper to bumper - say it ain't so, Doc - and I decided to take the back way home through the lovely streets of Lost Angeles. As I drove I passed by some familiar buildings - too familiar. I pulled over, threw a quarter in the meter, and snapped a few shots of some of the buildings that gave me that lovely Deja Vu.
Having spent the last few weeks making the Kolchak episode cards for the threads, I had been re-watching a most of them and grabbing some key shots. Most I didn't use but were clean shots to have. I jumped to my "Horror in the Heights" folder, and sure enough, I found some eerily similar shots. As I looked through a lot of my grabs I can pretty much nail down a lot of the Chicago exterior shots that are actually L.A. Downtown and surrounding areas for the Kolchak series. Since this one leaped out at me, I feel obliged to start with it.
Sal & Miriam Goldstein Leaving the Regent Theater with the Hotel Rosslyn seen in the background. (1974)
Same Shot 2008 - 448 N. Main Street Los Angeles.
Corner of Winston & Main - 5 doors north of the Regent Theater.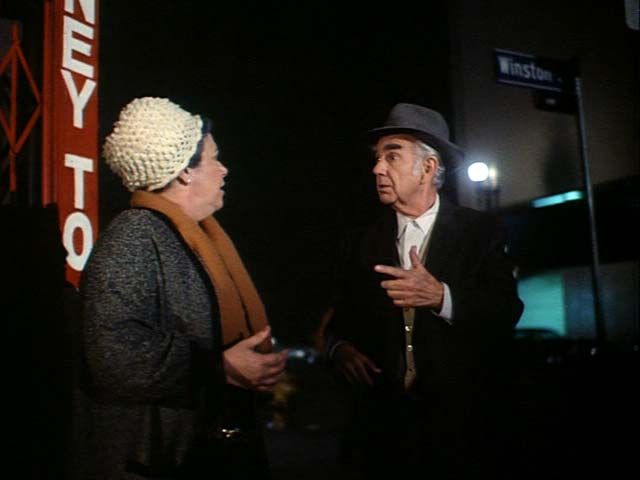 Yes, there is an alley just below the corner as depicted in the show, but it looks nothing like that shown in the show. However, the corner of Winston may have had a large building with a Shipping/Receiving dock that has since been torn down and made into a parking lot ... so it is hard to say. There are also many, many little alleys in this area, so it may have been shot a few blocks in either direction from this local. I'll do some more research and try to narrow it and the packing house from the poker game down. I believe it is the same building just a front and rear shot. Should be fun.
DrM