Greetings All,
I was talking with some friends and family at a party the other night and we got on the topic of toys. Primarily, the toys from our childhood and what they are offering now. In another thread,
post8113.html#8113
, TOL toys were mentioned. This brought back the conversation on all the really F'd up stuff we had as kids that were supposed to be safe or fun. Since our age range on this board spans a few decades, I thought it would be fun to see what each of us remember as a particularly
"BAD"
toy. I'm not talking fake toys, but stuff that was actually on the market for sale to children &/or family fun.
Doctor Dreadful Freaky Food Lab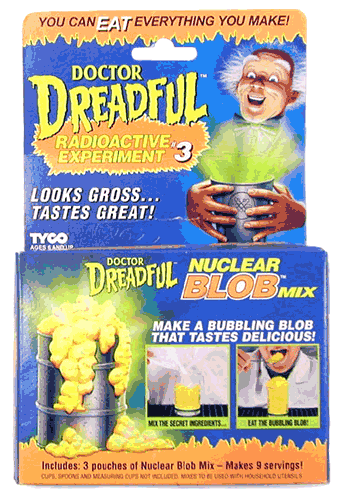 Some of the older crowd may not remember this stuff. This damn thing is still on the market, now owned by Funrise, and it took toy of the year in 2005. They make it with Jello now it looks like, but I don't really know for sure. What brings this one to mind was my nephew decided to join in the topic. He brought this toy up as being stupid. My sister and I remember it differently. For those who don't know, this was a little lab project that made you mix the components and stir them yourself. Hey, cool concept for a kid right ... wrong This stuff was nasty instant pudding, pixie sticks, and chemical hell. My nephew was like a junkie to this damn crap. Nuclear Freeze, Nuclear Blob, and Nuclear something else. Whenever my sister would take him anywhere it was ,
Doctor Dreeeeaaadfullll! Doctor Dreeeeaaadfullll!
from the back seat. And that stuff was like $5 for a 3 pack box. And as soon as she'd get him home, man he was making his batches as fast as he could manage. My sister had 3 or 4 different packages of this stuff in the house and he got investigative and found the stash. He mixed then all up and consumed them gleefully. Until later on when he kept pooping and throwing up. After that, he hated it and wouldn't have anything to do with it.
Happy Posting & Have Fun,
Phineas J. Whoopee